U2 -Elevation Tour -23/11/2001 -Phoenix -USA -America West Arena
Publié le 23 Novembre 2001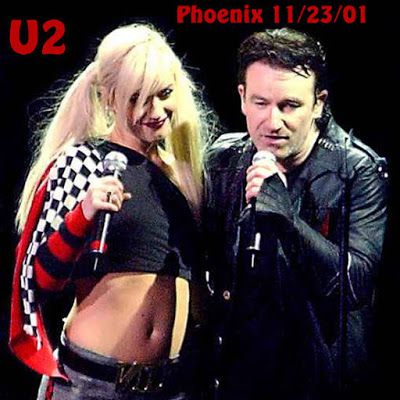 In God Country est jouée pour la première fois depuis le 9 octobre 1989. La chanteuse de No Doubt Gwen Stefani rejoint le groupe dans What's Going On; c'est la dernière de huit performances consécutives avec U2.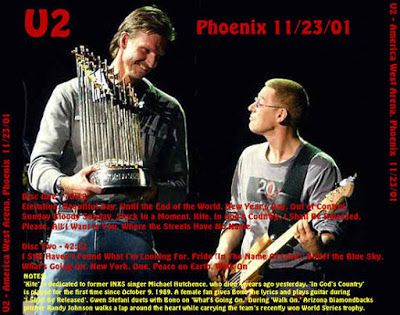 Setlist
Elevation
Beautiful Day
Until the End of the World
New Year's Day
Out of Control
Sunday Bloody Sunday
Stuck In A Moment You Can't Get Out Of
Kite
In God's Country
I Shall Be Released
Please
All I Want Is You
Where The Streets Have No Name
I Still Haven't Found What I'm Looking For
Pride (In The Name Of Love)

Bullet the Blue Sky
What's Going On
New York
One/Peace on Earth
Walk On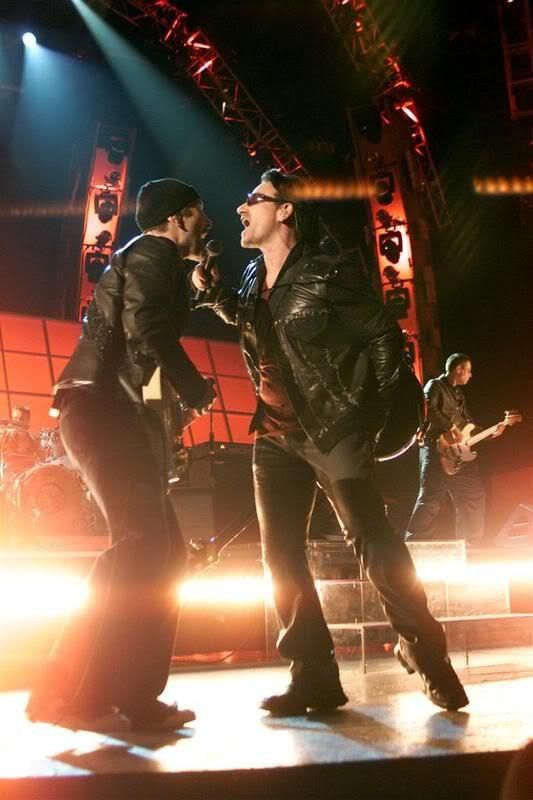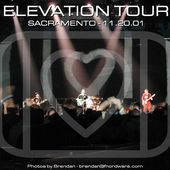 U2 -Elevation Tour -20/11/2001 -Sacramento USA- Arco Arena - U2 BLOG
Happy Birthday a été chanté à Dallas Schoo, technicien de guitare d'Edge, entre New York et One. U2 - 2001-11-20 - Sacramento, California, USA - Arco Arena - Beautiful Day / All You Need Is Lov...
http://www.guytou87.com/2017/11/u2-elevation-tour-20/11/2001-sacramento-usa-arco-arena.html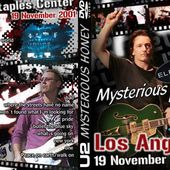 U2 -Elevation Tour -19/11/2001 -Los Angeles USA- Staples Center - U2 BLOG
Ce spectacle présente la dernière performance de Wild Honey. (cliquez sur la photo pour agrandir ). U2 - 2001-11-19 - Los Angeles, California, USA - Staples Center - Bad / Who's Gonna Ride Your Wild
http://www.guytou87.com/2017/11/u2-elevation-tour-19/11/2001-los-angeles-usa-staples-center.html