U2 -Joshua Tree Tour 2017-Nouvelle-Orléans Etats-Unis 14/09/2017
Publié le 15 Septembre 2017
Setlist
1 - Sunday Bloody Sunday
2 - New Year's Day
3 - Bad
4 - Pride (In The Name Of Love)
5 - Where The Streets Have No Name
6 - I Still Haven't Found What I'm Looking For
7 - With Or Without You
8 - Bullet The Blue Sky
9 - Running To Stand Still
10 - Red Hill Mining Town
11 - In God's Country
12 - Trip Through Your Wires
13 - One Tree Hill
14 - Exit
15 - Mothers Of The Disappeared

Rappel
16 - Beautiful Day
17 - Elevation
18 - Vertigo (snippet The Saints are Coming)
19 - You're The Best Thing About Me
20 - Ultra Violet (Light My Way)
21 - One (snippet Drowning Man)
22 - I Will Follow
U2 -Joshua Tree Tour 2017 -Kansas City Etats-Unis 12/09/2017 - U2 BLOG
PLEASE SHARE IF YOU LIKE IT! From the Joshua Tree 2017 Tour at Arrowhead Stadium. I used the camera audio as my HQ recording had static throughout. I will repost if some HQ audio becomes available ...
http://www.guytou87.com/2017/09/u2-joshua-tree-tour-2017-kansas-city-etats-unis-12/09/2017.html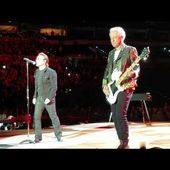 U2 -Joshua Tree Tour 2017-Indianapolis Etats-Unis 10/09/2017 - U2 BLOG
Le dernier concert de U2 dans cet état remonte au 10 octobre 2001 sur la tournée Elevation Tour ,Apparition du nouveau titre dans cette setlist: "You're The Best Thing About Me" U2 performs New ...
http://www.guytou87.com/2017/09/u2-joshua-tree-tour-2017-indianapolis-etats-unis-10/09/2017.html